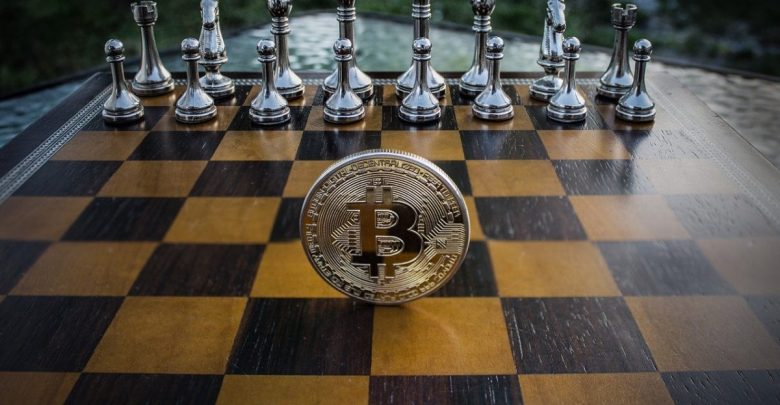 Would you like to play some fun games with your friends while simultaneously earning some Bitcoins? These seven quite interesting competitive Bitcoin games are here for you described in details. You can utilize their rich multiplayer features and play with your friends via Internet especially during weekends or cold weather. And if you're interested in exploring more opportunities related to cryptocurrency, check out https://cryptocasinos360.com/solana-casinos/ for a range of options in Solana-based casinos.
Spells of Genesis
Those who've been in the crypto industy since at least 2015 might be familiar with Spells of Genesis. It's well known for being the first game developed on blockchain allowing decentralized gaming experience.
Spells of Genesis combines elements from trading card games with elements you can find in point-and-shoot arcade games. Basically, it's a multiplayer PvP game set in a fantasy world where players must collect and cards to build the greatest deck possible and defeat their opponents.
The game is based on blockchain which means players can own their cards and other in-game assets. This is called "blockchainization" and we've seen a lot of this in the P2E era over the past few years.
To start playing Spells of Genesis, you need to link your crypto wallet to your account. Then you simply click the "blockchainize" button on the card you wish to transform.
Haste Arcade
Haste Arcade is a virtual arcade that offers Instant Leaderboard Payouts (ILP) to provide gamers with a one-of-a-kind gaming experience. This feature allows players to earn money and awards based on their place on a game's leaderboard in real-time. It works in a similar way to a casino accepting crypto.
To play this game, you must log in with your HandCash wallet and choose a game. Your performance will then be recorded while you play. The higher you rank on the leaderboard, the higher the payment will be. The amount of the reward is determined by your place on the leaderboard and the number of players in the game.
Thanks to its ILP features, Haste Arcade's players can enjoy the benefits of instant payment. Haste Arcade's games are generally very competitive. Players would try their best to rank high on the leaderboard. This is what makes it enjoyable and thrilling.
SatoshiQuiz
SatoshiQuiz is a website that gives you the opportunity to earn Bitcoin by completing trivia questions. The quizzes are divided into several categories, including general knowledge, movies, geography, and history.
The first step here will be registering an account and selecting a category that you are interested in. Each question is timed so you don't have all the time in the world to give an answer (or look for it over the Internet). If you manage to answer within the given time limit, you will receive a few Satoshi as a reward.
In addition to the standard quiz mode, SatoshiQuiz offers a solo challenge with elements of PvP. In this mode, you need to choose the category and pay a participation fee, which will be the basis for a reward winner will take.
The fact that you have to pay a fee might be a "no go" for some people. However, this adds some excitement, as there's always a chance to lose your little funds due to poor answers.
Duradogs
Durodogs is a blockchain-based P2E pet game, where players can take care of their virtual pets while earning Bitcoin and NFTs. It's quite similar to other popular P2E games such as Pet Society and Neopets.
This game is built on the Bitcoin SV blockchain network. The transactions are handled using the HandCash wallet. You can earn NFTs (non-fungible tokens) and BSV (Bitcoin SV) by leveling up your pets, teaching them new tricks, and discovering valuable things throughout the game.
Durodogs has a unique feature that allows you to sell your assets, such as NFTs. You can then profit from other players who want to buy those items. The higher the value of the NFT, the more money you can make. This creates an in-game market where players can sell their in-game assets for cryptocurrency of their choise.
Bitcoin Blast
Bitcoin Blast is basically the Bitcoin version of Candy Crush. It's a mobile game for both Android and iOS platforms where you collect loyalty points that can be redeemed for real Bitcoins.
These loyalty points can be earned by completing stages in the game. The more loyalty points you get, the higher your level will be. When you reach a minimum of 1000 points, you can request a payout which will most likely be made in BTC, ETH or other supported crypto.
The payment of 1000 points can be reached in about 10 minutes of action, making it a quick and simple method to earn some Bitcoins. However, there is a daily limit of 1000 points. This is a maximum number of loyalty points you can get per 1 day. But despite this limitation, it's still a fun way to spend your time and compete with your friends.
PowChess
PowChess is a blockchain-based online chess platform that allows you to earn BSV and real money by competing in PvP chess games and tournaments. The best part here is that this is a Free-to-Play so it's available even if you don't have crypto to pay thein-game fees.
Thanks to the BSV micropayments, you can make transactions for as little as one penny. This means that you can make small transactions in the game without worrying about high transaction fees or delays. You can also complete the transactions easily and quickly by using popular wallets such as HandCash.
Bitcoin Flip
Bitcoin Flip is a trading simulator game in which players can learn about cryptocurrency trading while also earning Bitcoin. The game is playable on both desktop and mobile platforms, and it includes a multiplayer option in which participants compete in real-time trading tasks.
In the game, users are given a virtual wallet with a $10,000 starting value. This balance may then be used to buy and trade cryptocurrencies such as Bitcoin, Ethereum, Litecoin, and Ripple. The goal is to generate as much income through trading as possible.
This game has a leaderboard feature that allows players to compete against one another to see who is the most successful trader. This adds a competitive element to the game. To make things more fun, you can even connect the game to Facebook to compete with friends.
Final Thoughts
These games provide a new and entertaining way to learn about Bitcoin while competing for prizes with your friends. Playing these games with friends is not only entertaining, but it is also a terrific way to earn additional Bitcoin.
Read Next: Roblox Blox Fruits – Gameplay, Graphics, Features, and More