Business
What is the Value Offered by Asana Pricing vs Trello Pricing?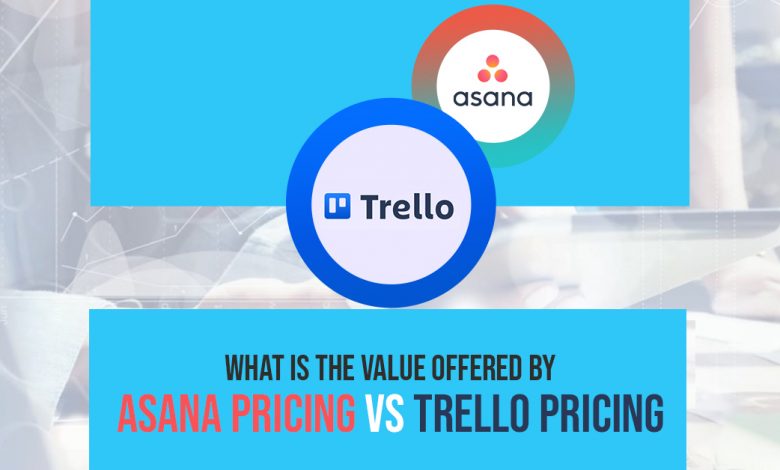 There are several leading project management solutions available in the market and it can be difficult to choose from long lists. The software should have the tools a business needs to assist with its workflows. Asana and Trello have similar collaboration, task management, and communication features that assist teams with all aspects of the project. It is important to know the differences between the two of them in order to make the right choice. This article explores Asana pricing vs Trello pricing amongst other things to help readers find all the information they need in one place.
Asana
Asana is a cloud-based project management solution that focuses on team collaboration and task management. The core feature of the software is its ability to break down the team goals into manageable projects and tasks while the team remains updated on the progress of their goals at all times.
Trello
Trello is a visual project management solution that helps teams focus on their projects and relevant tasks. The Kanban-style boards are like sticky notes and users can see all their projects on one screen. It helps manage current projects and keeps the completed ones safe in the archive.
Planning and Scheduling 
When comparing Asana pricing vs Trello pricing it is important to discuss how they assist with project planning. There are some main differences between the approach used by either platform.
Asana
With Asana software each team can create a new project which serves as an important building block in the Asana workflow. When they have established a new project, it is easier to add tasks, and subtasks, and organize it into different phases. The team can break down the project into different stages, sequences, and milestones depending on its nature.
Teams can also choose between three different viewing options namely the board, timeline, and list. Each task is displayed according to its priority level in the list while with the board teams can visualize them according to the stage. A timeline is the most functional option and tasks are displayed on a map to allow teams to see a complete overview of the project lifecycle.
Trello
Trello emphasizes the Kanban board because it is its signature viewing option. Businesses that use this style appreciate Trello for the functionality it provides with it. All projects can be broken down into single boards and teams can add specific tasks in the form of cards to consolidate all the information in one place.
Trello software also has a timeline view which can be used by teams to oversee the project's progress. They can drag and drop cards from one list to another making it extremely useful. The process of adding changes to the project is available with the timeline option.
Task Management
Both Asana pricing vs Trello pricing includes unlimited tasks to be added to a project. With Asana tasks are called tasks but in Trello, they are referred to as cards. Teams can check the status of each task, schedule their due dates, and assign them to team members. However, there are some differences in how the software handles these functions.
Asana helps teams also add the dependency of tasks and link them to other tasks which makes the workflows even more efficient. This feature is not built into Trello's interface. Asana also has the option to schedule recurring tasks and although Trello does not have the native feature users can select a power-up or integration to access it.
Collaboration
Collaboration is necessary to make sure all moving parts of a project are in sync. Asana and Trello software delivers on this front and have the ability to create teams for a particular project. Companies can make sure the right people are assigned the task and they can discuss the work before they begin. It also facilitates adding attachments, tagging other users, and providing feedback in the comments.
Software Integration
Project management tools assist with third-party integrations to help teams connect the workflows with platforms they already use. A long list of integrations is possible with both Asana pricing vs Trello pricing. Trello refers to them as power-ups and Asana has the ability to develop customized applications with the API. Each specific function is a great option for established businesses.
Pricing
When it comes to pricing, it is important to compare the value both platforms offer in order to make a fair comparison. However, it is difficult to define value because it is subjective, especially for free versions of the product. It is important to look not only at the pricing per user but also at all the features that are included in that price.
Asana software premium pricing starts at $10.99 per user per month while Trello standard pricing starts at $5 per user per month. These rates are only applicable on the annual billing method and can go up for those who choose to pay month-to-month. It is recommended to choose the yearly payment plan because that results in savings and a stress-free user experience. Users can make their payments through credit card or Paypal.
The structuring of the plans under Asana pricing vs Trello pricing is completely different especially when it comes down to the features. The only exception is the enterprise plan but the pricing details for Asana are not available and are only obtainable via customized quotations. Therefore, it is important for the readers to know their exact requirements before they choose.
They can start using the free plan to get an idea of the tool or take the Asana 30-day free trial for a spin. This will give them a clearer idea of both products and how useful they are in a specific work environment.
Conclusion
When it comes down to choosing between Asana and Trello, the choice depends on the size of the organization and its specific needs. A smaller team that needs a visual tool with Kanban-style boards will prefer to use Trello. However, larger teams with more niche features such as task dependencies should go for Asana.
Read Next: PS3 Controller Charging Issue: 5 Easy Tricks to Solve