Games
Amazon Games "New World" MMO: Classes, Races, Factions & More!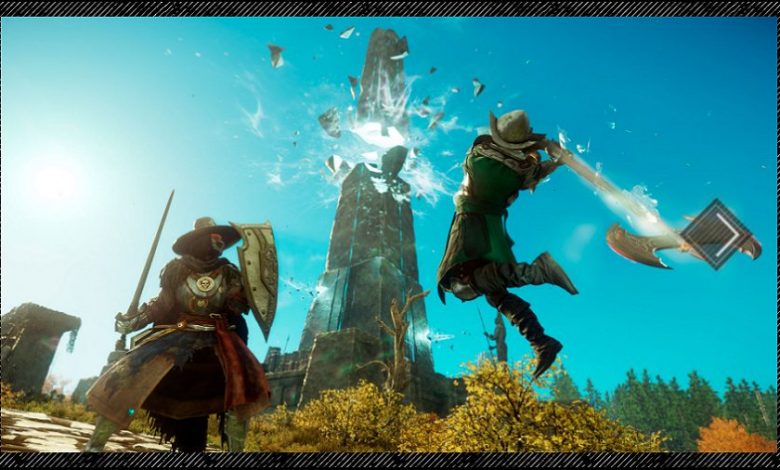 The long anticipated MMORPG New World game from Amazon Games is finally released Tuesday September 28th, and we couldn't be more excited!  Enter the open-world Aeternum, a survival island influenced by colonial America, and prepare for a thrilling adventure filled with exploration, team building, and intense PvP and PvE battling.
Unlike other MMO games, the New World game doesn't use a weapons class system or segment players by race. Instead, all players are made human and left on the island of Aeternum to forge, fight, and scavenge their way to victory.  After advancing through to level 10, players can then choose 1 of 3 factions to join, in order to rank up and unlock even more epic quests and bonuses during gameplay.  The Amazon New World game has been designed to provide a dynamic gameplay experience for both solo players and those who enjoy playing as part of a team.  With so many incredible elements to the game, gamers everywhere are hopeful it will live up to the hype and provide an exceptional RPG for the ages.
As mentioned before, there are no race options to pick from.  Unlike other MMOs like World of Warcraft, every player is human.  This allows players to develop their characters over the duration of the game and not fall into the trap of being stuck into one character archetype.  This feature pairs nicely with the classless weapons system, as players can then personalize their characters to their own unique playing style, respec as needed to advance within the game, and ultimately curate their gaming experience to suit their own interests.
The New World classless weapons system is designed to enhance and improve the overall gameplay experience.  The aim of this is to pull away from the classic "holy trinity" of tanks, healers, and DPS players, and instead create a game that allows you to analyze and decide successful methods of attack in boss, PvP, and PvE encounters. Features such as weapon switching, flexibility in determining the necessary equipment to fulfill your duties, and "respec'ing" provides an easier method for leveling up, as you no longer have to wait around to develop the ultimate battle party.
The negative side of a classless system means more time spent completing those sometimes boring tasks necessary for weapons mastery, trade mastery, and leveling up. To bypass the wait and level up faster, using New World Carry Services like Leprestore, for example, unlocks your ability to have a more dynamic gameplay experience and get to the end-game sequence much faster. Using a video game boosting service is very beneficial for those that want to save time on completing understimulating side quests and tasks necessary for leveling up, or for those that want to use specialized weapons tailored to their playstyle preferences without going through the hassle of completing weapons mastery and trade mastery tasks in the game.
After a player has reached level 10, weather through organic gameplay or the use of a carrying service, players then have the ability to choose a faction. There are 3 factions to choose from in the New World game: The Marauders, The Syndicate, and The Covenant. By joining a faction, players unlock the ability to explore the New World game map with other members of their faction, complete expeditions to unlock exclusive rewards, and participate in rigorous battles against opposing guilds. Check the Latest Gameplay on Beta Sim Racing.
Once in a faction, players can rank up and build their reputation within it. Some New World Carry Services offer faction boosting that allows you to do this faster and start dominating in the game, without spending hundreds of hours crafting and developing your character's skills.
When it comes to choosing which faction to pick, it's important to know which one best aligns with your gameplay interests. Your faction can only be changed once every 120 days, so it's important to discern all of the relevant information about each, in order to choose wisely. The factions are described as follows:
The Marauders: Members of this faction are part of a merciless military force that values vigor and prowess the most. Their goal is to create a free nation where anyone with the strength and resolve to assert their dominance has the right to do so.
The Syndicate: These are the shadow lurkers, scientists, and scholars of Aeternum. They use their wit and powerful intellect in order to pursue forbidden knowledge. Their aim is to bring an age of enlightenment to all, and will work tirelessly to fulfill their mission.
The Covenant: These divine conquerors are dedicated to their belief in the light of the Spark. These enlightened beings fight with virtue and justice to bring their religion to all citizens of Aeternum.
While choosing between the 3 factions will most certainly be difficult, there are many tests online that will give you insights on how pick the one that's right for you. You can also use New World Carry Services that take the headache out of dealing with factions as a whole, and get back to the most important part of gaming, playing the game!
With all of the awesome data Amazon Games and beta testers have recently disclosed about the New World Amazon game, gamers everywhere are waiting with anticipation for the final release. Even though the New World (video game) initial release date was August 31st and has been delayed to September 28th, this has not been in vain. Beta and alpha tests completed by Amazon showed many bugs and several necessary changes for gameplay enhancement including: game development at certain levels, fixing glitches that had allowed players to eliminate enemies from positions that prevented them from amassing damage, and many, many more.
We hope that the changes and bug fixes allow for an incredible gaming experience for all of the varying playstyles. After all, many gamers can't wait to create and develop their characters in order to dive into the amazing action-packed world of Aeternum.  The expeditions, PvP battling, and PvE survival fights are just a few of the enticing components that many of us are excited to explore. Gamers everywhere are ready to participate in glorious quests and fight rigorous battles all in efforts to slay opponents, reach the end-game, and come out victorious.
Read Next: Warzone Voice Chat Not Working on PC: We Fixed it!.