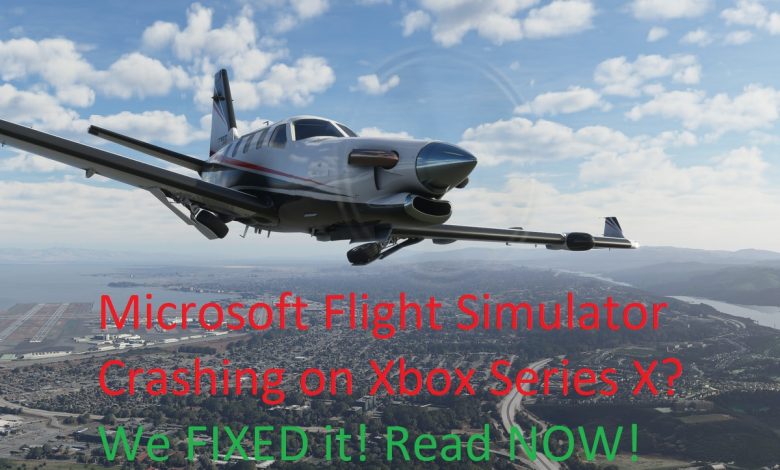 Microsoft Flight Simulator 2020 crashing on Xbox Series X? You have crash-landed on the right site! There are various factors that can cause this. Some of them are:
Outdated operating system of Xbox Series X.
Game has a bug.
Cache file is corrupted.
You will have to follow a bunch of steps for troubleshooting Microsoft Flight Simulator 2020 on Xbox Series X. So, fasten your seat belts because we are going through the before-take-off checklist!
Microsoft Flight Simulator 2020 is currently under active development by Microsoft since they are releasing new updates and packages for the game every once in a while. It was released in 2020 but was only available on PCs back then. Initially, Microsoft had plans to port the game on Xbox One but they had to let it go in the final stages of development since the console was too weak to handle the game. In order to simulate the whole darn world on Microsoft Flight Simulator 2020, you are going to need some pretty good specs (which the Xbox One doesn't have).
Fixes for Microsoft Flight Simulator Crashing on Xbox Series X
Irregular crashes or freezes (once in a few weeks, for instance) are common because Microsoft Flight Simulator 2020 is a heavy game that needs a stable internet connection for smooth performance. However, if the game is crashing a bit too much (for instance, when the game is loading) then it probably means there are some glitches in your MSFS installation files. Follow these steps to solve the crashing issue with Microsoft Flight Simulator 2020 on Xbox Series X.
Also check out! How to Donate Robux and Help Your Friend in Need?
Things you need to do first:
Update your Xbox Series X's operating system.
Update MSFS 2020 from the Microsoft Store on Xbox (can also be done from 'My Games and Apps' section)
Try to Open the Game Again After It Totally Closes
This is an easy fix. Simply restarting the game will delete the corrupted data and cache and make a new copy of temporary files, which might result in the game working fine again.
Here are the steps for restarting Microsoft Flight Simulator and clearing its cached data.
Step 1: Tap on the Xbox button (WAIT! Not on your console! The one on your controller!!)
Step 2: Go to Home from the sidebar.
Step 3: Highlight the icon of Microsoft Flight Simulator 2020 and tap the Menu button. This is how you bring up additional options for Microsoft Flight Simulator 2020.
Step 4: Select the Quit option and press A.
This will close the game completely.
Final step for this fix: Open the game again. If the game still crashes, try your luck with the next set of steps.
Click here to purchase Microsoft Flight Simulator 2020 from the Microsoft Store!
Restarting Your Xbox
Another reason for Microsoft Flight Simulator 2020 acting up on Xbox Series X is corrupted data and cache. If the temporary files (cached data) associated with Microsoft Flight Simulator 2020 are corrupted, then your game will either not launch or load at all or will crash in the middle of a flight. To get rid of the corrupted cached data, power cycle your Xbox.
To do this, hold the Xbox button (but on your console this time around). After some time, the console will turn off. After that, unplug the power cord for some time to make sure everything shuts down. Now, turn your Xbox ON and try launching the game again. Still no signs of your flight taking off? The third fix got you covered!
Using Another Xbox Network Profile
Your Xbox profile can be corrupted sometimes. If that's the case, you can try launching the game off another profile and see if it works fine. To do this, you must press the Xbox button and that sidebar will slide right in. Highlight the 'Profile and System' section (the one with your gamerpic). See the 'Add or Switch' tab? If there are other profiles, switch to one of them but if you have a single profile on your console, you can make a new profile right there. If adding a new profile fixes the issue, then you have to remove the main profile and add it back in.
Still no clearance from the ATC? We've got one more fix that usually works! See below.
Recommended for you! How to Fix The Fortnite Mic Not Working Error
Deleting Saved Games
If you are trying to load corrupted saved data, your game will surely crash (later if not sooner). To fix this, delete the saved games of Microsoft Flight Simulator from your Xbox but not the cloud. After you are done removing the saved files, you have to get it back from the cloud and try launching the game again. If you don't know how to delete saved games, here are the steps that you can follow:
Step 1: As always, press the Xbox button on your controller.
Step 2: Go back to Home and open 'My Games and Apps'.
Step 3: Choose 'See all'.
Step 4: Select Microsoft Flight Simulator 2020 and press the button with 3 bars icon for bringing up a menu with other settings for the game.
Step 5: You should now see 'Manage Games and Addons' section. Go inside and select 'Saved Data'.
Step 6: Select 'Delete all' and doing so will remove all the saved data from your console.
Now, launch MSFS 2020 and let your console sync the data again. Still facing crashing issue? Reinstalling Microsoft Flight Simulator would be the only solution!
Last Fix: Reinstall Microsoft Flight Simulator from Microsoft Store on Xbox Series X
You did everything mentioned above to prevent Microsoft Flight Simulator from crashing but say that went all in vain! Sometimes, the game just won't work and that is most certainly due to corrupted installation. Now, you only have one option and that is to reinstall the game.
Happy Flying!