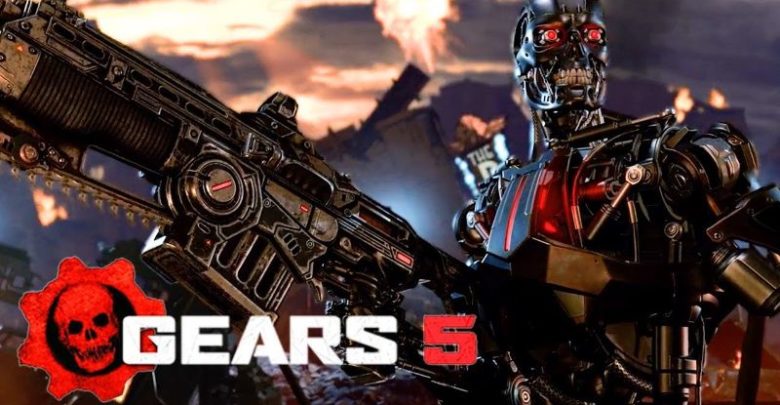 Gears 5 is getting 6 new playable characters, two of them are from Terminator: Dark Fate.
Grace and the new Rev-9 Terminator model are going to make their entry into the franchise.
All the characters will include new abilities to influence gameplay and can be used as skins in the Gears 5's versus multiplayer mode.
The Coalition is introducing six new playable characters for Gears 5 and is going to include characters from the upcoming movie – Terminator: Dark Fate. Now, gamers will be able to play as the new Terminator model Rev-9 and Grace (voiced by Mackenzie Davis).
However, this is not the first time that Gears 5 has introduced characters from the Terminator franchise. Previously, characters like Sarah and the T-800 Endoskeleton were also introduced as playable characters.
Also read: PUBG Season 5 Datamined – What's Coming In The New Season?
Now, besides the newly added Terminator: Dark Fate characters, you will also get to see two new heroes – COG Gear & DeeBee, alongside two new villains – Warden & General RAM. All these characters will come with new abilities that are sure to make an impact on the current meta.
Gears 5 New Characters – New Abilities & Availability
COG Gear's abilities will apply to both Horde & Escape mode and the Versus Arcade mode. However, DeeBee, Warden, and General RAM only have new abilities for Arcade. All four of these characters can either be earned(unlocked) via gameplay or bought from the in-game store by spending 500 Irons each.
For the Terminator: Dark Fate characters, Grace will come with specific abilities for Horde & Escape mode and Versus Arcade mode, while Rev-9's abilities are geared for Versus Arcade battles only. Now, both Grace and Rev-9 will be sold as a $19.99 pack. This was also the case with previously released T-800 Endoskeleton and Sarah which is also currently available at $19.99. 
Once you have unlocked these characters, you will be able to use them as skins in the Gears 5's Multiplayer mode.
All these characters will be added today at 3 P.M Eastern Daylight Time (EDT). Also, in the coming weeks, The Coalition will be introducing new features like seasonal multiplayer events, customization rewards from Horde & Escape and Versus modes, and new Escape Hives.
Read Next, Apple has released the iOS 13.1.3 update for iPhones and iPads.