Internet
Is Luckybird Legit Sweepstakes Casino?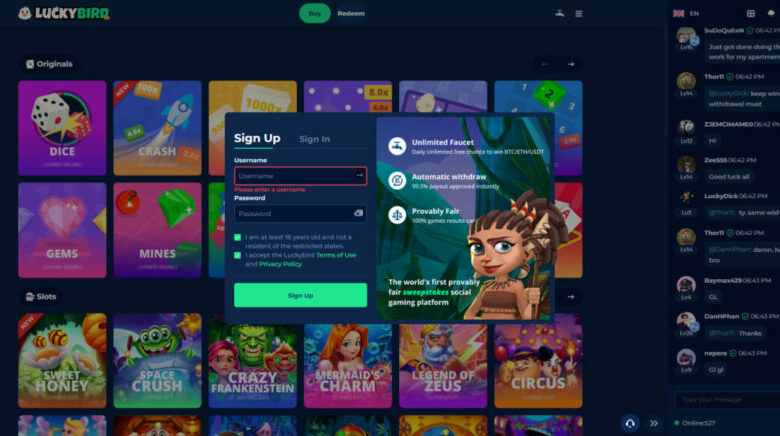 Luckybird.io, a novel sweepstakes casino platform, has been making waves in the digital gambling space with its unique crypto payment and redemption mechanisms. While there are other social casinos that share these features, none is quite like Luckybird.io, save perhaps the renowned Stake.us, which we will delve into in a different piece.
The modern, user-friendly design of Luckybird casino, coupled with an array of unique features, enhances user experience and keeps transparency in check. This article aims to investigate the genuineness of this free-to-play platform that teases gamers with real-money rewards.
Luckybird.io Redemption – Our Experience
In order to discern the authenticity of Luckybird Casino, we decided to venture directly into the heart of this social casino. We sought to determine whether the platform was legitimate and secure or simply a sophisticated scam.
Free Signup Offer
Our initial registration was seamless, with no mandatory email requirement to join the social gaming arena or make purchases. However, we promptly advise setting up an email address as it instantly nets you an extra SC 0.20 on top of the SC 0.20 welcome bonus given on sign-up.
Proceeding to set up our email and two-factor authentication was a simple yet rewarding process, amassing a total of SC 0.60 in our account. These amounts may seem trivial, but with Luckybird.io allowing bids as low as SC 0.0001, every fraction matters, especially for novice players.
Thanks to the welcoming no-deposit bonus, we managed to get a taste of numerous games on the platform without any financial commitment.
Redeeming Prizes
In the spirit of thorough examination, we went ahead and made a purchase, receiving exactly what we paid for, along with additional free coins. We now had approximately $100 in Sweepstakes coins. After we wagered the SC amount once, we were prepared to tackle the critical aspect of redemption – a common hurdle faced by many players in the realm of sweepstakes casinos.
With about SC 50 left, we ventured to withdraw the remaining balance. However, as anticipated, we had to go through a thorough KYC procedure to initiate the redemption process. Verification took a few hours, followed by an additional three-hour wait to see our SC 50 redeemed successfully.
Third-Party Reviews
To broaden our perspective, we proceeded to explore customer feedback on one of the most prominent review platforms. With only 40 reviews giving an average score of 2.6/5, the dataset was limited but still proved insightful. Initially, the mixed scores seemed puzzling. However, a closer look at the comments revealed a recurring issue – redemption problems.
Approximately 63% of the reviews carried a low 1-star rating, with blocked accounts and non-payment being the chief grievances. But as we delved deeper, another pattern began to emerge from the positive reviews. Many users confessed to multi-accounting, a clear violation of Luckybird.io's terms of service.
This tactic was primarily adopted to exploit the faucet rewarding system, indicating that a significant portion of these disgruntled customers were attempting to game the system to turn a profit.
Game Experience
Global Chat
The gaming experience at Luckybird.io is distinct from other sweepstakes casinos. While live chat is not an unfamiliar feature in the online casino world, the platform's capability to tip others and receive free coins within the chat is a unique twist that we hadn't encountered before.
Players actively engage with one another, sharing victories, losses, and even bonding over mutual experiences. Luckybird.io also introduces a randomized rewarding system within the chat, prompting players to keep an eye on the global chat for potential contests and giveaways.
The platform's commitment to offering free play modes and maintaining an equal winning chance for all players, whether playing with Gold Coins or Sweepstakes Coins, is a strong testament to the platform's legitimacy. This is a fundamental requirement for a sweepstakes casino.
Luckybird.io hosts a broad selection of mini-games, such as Plinko, Hilo, Keno, among others, which can be played with as little as SC 0.0001. Slot games, on the other hand, allow a minimum bet of SC 0.01.
An important aspect that maintains Luckybird.io's credibility is the implementation of the 'provably fair' system. This allows users to publicly verify the fairness of their bets, ensuring transparency and reinforcing trust in the platform's operations.
Who Owns Luckybird?
Ascertaining the ownership of Luckybird.io currently poses a challenge, as there is no available information regarding the platform's owners or sponsors. Strikingly, the site does not provide a dedicated page that elucidates who is responsible for user data, a crucial piece of information that can heavily influence user trust and site reputation.
We advise the platform to incorporate more comprehensive information about its operating entity to foster transparency and enhance credibility.
At the moment, the only point of contact provided is an email address:
However, this alone is insufficient to establish substantial authority for the business. Rest assured, we will persist in our investigation to uncover the proprietors behind this intriguing social gaming platform.
Bottom Line
Through an extensive investigation into the novel sweepstakes casino platform, Luckybird.io, we have garnered a diverse range of insights. This platform is particularly innovative in its crypto payment and redemption systems, unique chat features, and the implementation of a 'provably fair' system.
We found the platform to be user-friendly, and it rewards responsible play and interaction within its community. The lack of mandatory registration requirements also enhances the ease of access for users.
However, its customer reviews presented mixed opinions, with a noticeable amount of grievances related to blocked accounts and unpaid winnings. It became clear, though, that a significant number of these complaints could be attributed to users violating terms of service through multi-accounting.
One critical area needing improvement is the disclosure of ownership information, which is currently absent and could potentially affect user trust.
In light of these findings, we deem Luckybird.io as a legitimate platform until more concrete information suggests otherwise. As the platform evolves, we urge players to engage responsibly and adhere to the rules for an optimal gaming experience.
Read Next: Vanguard Xbox Live Issue: Can't Connect to Xbox Live