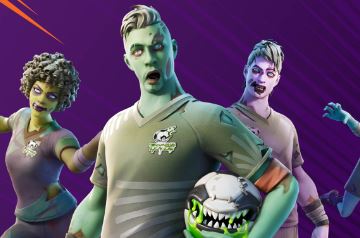 Fortnite is one of the most popular games without a doubt. Once started as a fun mode by Epic Games, is one of the best multiplayer games out there. Fortnite Battle Royale has a very big player base. Of course, this journey was not very easy. Today there are several games out there that can compete with Fortnite and most of them are quite a bit older. LoL, and Dota is much older than Fortnite and we all know about CS: GO.
Other Battle Royale games can not compete with Fortnite in the long run. PUBG tried to do weekly updates for a while similar to Fortnite. However, they dropped this idea soon after. Maybe the only contender we will see is Apex Legends but even they have a very long way to go. However, the queue times are getting longer and some players realized a drop in the Fortnite player base. Is Fortnite dying?
Also read, How to Activate GameShare on PS4 To Share Your Library with Friends
Fortnite is 2 years old. All games have an expiration date. This is inevitable. The technological advancements and trends in the gaming world decide which game will be the next popular one. But 2 years is not that long also. Look at Rainbow Six Siege 4 years and still going strong. CS: GO how many years and still getting updates regularly. Fortnite needs a loyal fan base. This is essential for game sustainability. Currently, the community, especially on Reddit, is bashing the game and that may be the reason why Epic Games stopped posting the patch notes anymore. Click here for Fortnite gaming PCs.

Fortnite's image among gamers is not that great. There is a very thick line between Fortnite players and not Fortnite players. Some of the players in the gaming world, refer to Fortnite as a kid game. This is generally due to graphics and is easily accessible by everyone. No one needs to spend money and yes kids will have access to this more than for example, Halo. The game's image needs to be fixed with something. Maybe a build less mode will appeal to players or a realism mode. Honestly, a realism mode included Battle Royale might be interesting such as not knowing where the circle is.
Epic Games announced a 20% live player decrease in comparison to July 2018. This is normal and not such a big loss. Because every game after some time starts to take hits here and there. But maybe the most important thing is to consolidate the player base that you have right now. Epic Games is struggling with this. The new map should have released 2-3 seasons ago. Players were tired of playing the same map over and over again. Some of the  Chapter 2 changes were great. Epic Games did a great job. But Season 10 mistakes are still haunting the games community. Also issues like Fortnite banning Jarvis.
No, Fortnite is not dying but it is not going great either. Epic Games is fighting to keep the player base. Things will get more intense if CoD will release a free-to-play Battle Royale game in the future. All the leaks are pointing towards this. We will see how will they endure this battle.
Read Next:
How To Fix Nintendo Switch Not Charging