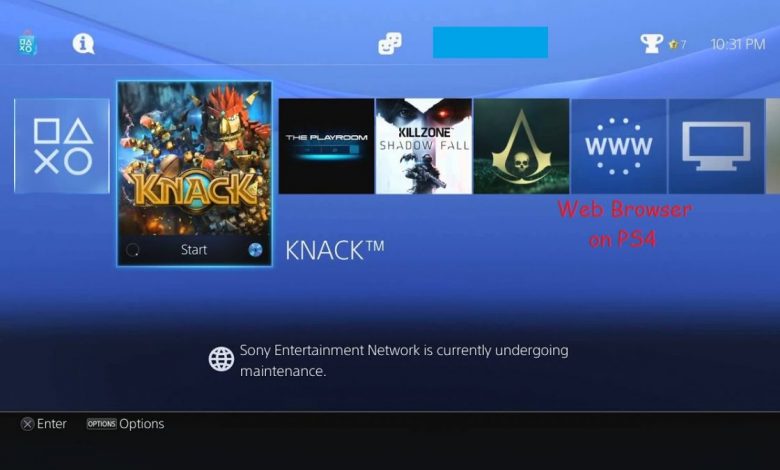 Did you just buy a PS4? Do you want to know if it has a web browser and use it? Like Xbox One, PS4 is also a gaming console. Xbox One comes with a built-in web browser named Microsoft Edge (the same browser that comes included with Windows 10 on PC). PS4 is made by Sony so you might think it would not have a web browser.
Sony Has Included a Web Browser on PS4
If you ever thought that Sony didn't make a browser for PS4, you were wrong! PS4 comes with a really basic but ready-to-use web browser.
Check this one out! Tekken 8: Everything You Need to Know About The Upcoming Fighting Game
Let's Browse the Web Using PS4 Web Browser
To open the PS4 web browser, start up your PS4. Get to its Home Screen and find the web browser's icon. If it's not there, go to your app library. Once you highlight the web browser's icon, just tap the "O" button to launch it. After the browser opens, you can head to any webpage on the internet. Just type in the URL, press "R2" and the browser will take you there.
Q: I want to play videos on a variety of webpages using the PS4's built-in web browser. Can it handle videos well?
The web browser included in PS4 will handle videos on different websites pretty well.
Q: I want to free up some space by deleting the web browser on PS4. How can I do that?
If you want to delete your browser, then sadly, you cannot. The browser is built into your PS4's system software. The web browser on PS4 is just like the Microsoft Store app on your Windows 10 PC or Microsoft Edge on an Xbox One. You just cannot delete it.
I want to get to my most-visited websites faster and not waste any time. What about bookmarks? 
The built-in PS4 web browser got you covered!
If you want to go to your websites immediately, you can use the 'Bookmarks' feature (make sure your browser is up to date to ensure the proper functioning of this feature). You will not have to type the URL every time to get to your website. You will have to create and save your webpages in the bookmarks section for prompt access. Learn to save a bookmark on PS4 web browser below.
Saving a Bookmark 
Saving a bookmark is fairly simple. Go to your browser. After it launches, you must put your URL in the URL bar. Tap the Options button on your controller. From the list that shows up, locate and select "Add Bookmark". That's why I said saving bookmarks was a cakewalk. If you want to memorize it, you can give a unique name for your bookmarked website.
Head to a Bookmarked Website 
You can get to your bookmarked website easily but first; you need to figure out where your bookmarks are saved. To find a bookmarked website, you must press the Options button while you are on your browser. Go to bookmarks and select the website you want to go to and press "O".
Don't forget to check this manual out, designed by Sony, for using the web browser on PS4!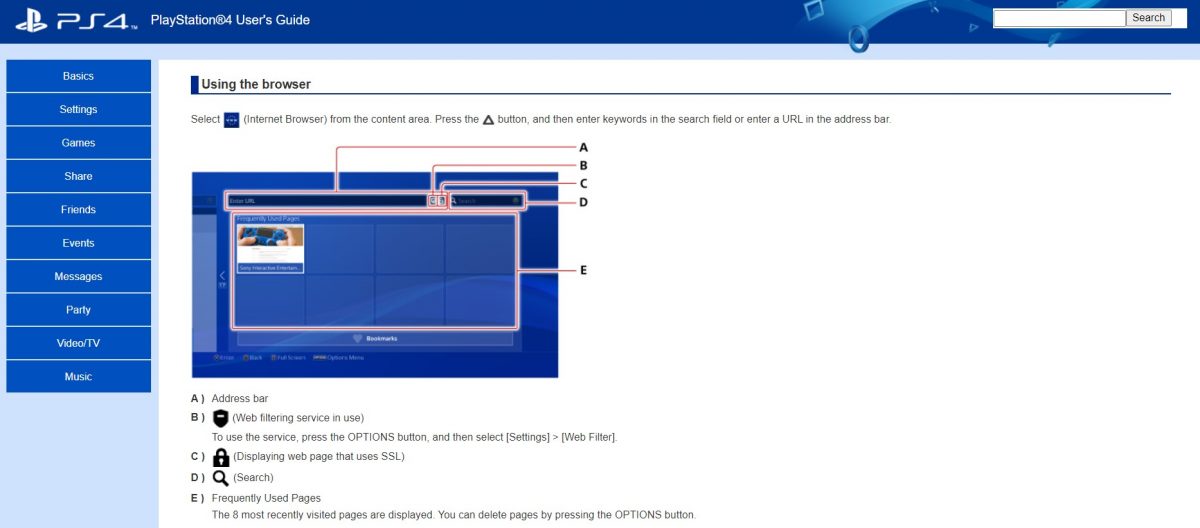 Deleting a Bookmark on PS4 Web Browser
Now, if you accidentally create a bookmark, it will occupy space on your console's hard drive (even though it's only a few megabytes). To delete a bookmark, launch the browser app then press the Options button on your controller when on the Home page. Select that bookmarked page and head to its option. Select Delete and press "O". Choose from the list, the websites you want to get rid of, from your bookmarks.
Recommended for you! Fortnite vs Apex Legends: Which one is the 'The Best Battle Royale'?
There will be one more Delete option at the bottom right corner of your screen and you have to select it one last time. In the next step, choose 'OK' and your bookmarks will be deleted.
Clearing Searches
Clearing browsing history on PS4 web browser is pretty simple. After launching the web browser, access additional options for it by pressing the Options button on your controller. You will see a "Browsing History" option, highlight it, and press the Options button again. You will see a "Clear Browsing History" tab there. Press "OK" to clear your history.
Clearing Cookies on PS4 Web Browser
You must have seen the usual "This site uses cookies…" notification visiting different websites using the PS4 web browser. You might have thought that it's probably a fake ad in the form of a cookies notification. For those who don't exactly know what cookies are, these are the stored fragments of a user's data for improving his browsing experience. They can be stolen by any hacker or sometimes, big companies (maybe even Sony) as they are your personal data. To prevent the cookies from being stolen, just delete them. To delete cookies, launch your browser, go to the Options section then Settings for deleting cookies. Go with selecting "Delete Cookies" then choose "OK". You can also prevent your browser from saving cookies. To do so, launch the browser and from the cookies section, uncheck the "Allow Cookies" box.