How To
A Step-by-Step Guide on How to Redeem Roblox Gift Card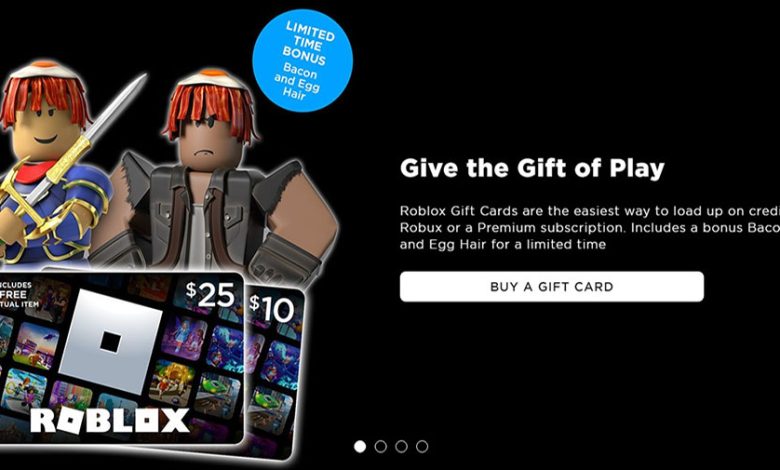 Roblox is a global online gaming platform that has grabbed the attention of several gamers. Whether you enjoy puzzle games, simulation games, or role-playing games, it's an engaging platform that blends imagination, planning, and teamwork to create an unforgettable gaming experience.
Gift cards are a fantastic way to increase the excitement level while playing Roblox. These cards are pre-loaded with virtual money that can be used to purchase different in-game products, including costumes and accessories.
The Roblox gift card can help you improve your gaming experience in ways you never imagined. These cards can be helpful if you want to unlock new levels, buy unique costumes, or take advantage of exclusive in-game events.
So, if you're willing to learn how to redeem your Roblox gift card, get ready for a step-by-step tutorial by indulging yourself.
What is a Roblox Gift Card?

A gift card from Roblox is a prepaid card used to buy virtual goods on the Roblox platform. Within the platform, virtual goods, accessories, and game passes can be purchased using the virtual currency known as Robux. Roblox gift cards are an excellent way to give friends and family the gift of gaming.
The virtual currency balance will be credited to the user's account after using the code found on the cards, which can be redeemed using the Roblox website or app. Users can use this to upgrade their game experience by purchasing on the platform.
Steps to Redeem Roblox Gift Card
To use your Roblox gift card, follow these simple instructions:
Visit the Roblox website or app: Go to the Roblox website in your browser or the Roblox app on your mobile device.
Log in to your account: Enter your account information if you already have a Roblox account. Creating an account is required if you still need to create one.
Go to the redeem page: As soon as you are logged in, you must visit "Redeem." And then, both the settings section of the app and the website's navigation menu provide a link to this page.
Type in the gift card code: Your Roblox gift card's code must be entered on the "Redeem" tab. Before clicking "Redeem," enter the code exactly as it appears on the card.
Check your account balance: You should see the virtual currency balance added to your account after redeeming the gift card, so check your account balance. Go to the "Robux" area of the settings on the app or website to view your balance.
Start making purchases with your virtual money: Now that you have used your Roblox gift card, you can begin using your virtual currency to make purchases on the website.
Recommended for you: How to Play Roblox on PS4 – Create and Play Fan-Made Games Online
Alternative Methods to Redeem Roblox Gift Card
There are various additional ways to spend your gift card. One of these techniques is:
Redeeming via the Xbox app: If you have the Xbox app downloaded, you can use it to utilize your Roblox gift card. Launch the Xbox app, navigate to the "Store" section, and enter the gift card code to accomplish this.
Redeeming through the Microsoft Store: You may also use the Microsoft Store to use your Roblox gift card. Just launch the Microsoft Store, select "Redeem a code," and enter the gift card code to accomplish this.
Using the Roblox gift card websites: Redeeming on the gift card website is an additional choice. To redeem the card, you must go to the website, enter the gift card code, and adhere to the directions. The website for the Roblox gift card is located here.
Contacting Roblox support: If you run into any problems using your gift card, you may get help from Roblox support. The redemption procedure will be walked through, and they'll ensure the right amount of virtual money is credited to your account.
Essential Things You Must Know Before Purchasing A Roblox Gift Card
With Roblox Gift Cards, you can be confident that your loved one can play their favorite games whenever possible. These cards are helpful because they never expire and can be used whenever you want. As a result, Roblox players can take advantage of the games without being concerned about the expiry date.
These cards, regrettably, cannot be exchanged or refunded. Additionally, they cannot be traded for money or credit. On the Roblox platform, buyers can use them to buy virtual goods like apparel, accessories, and game passes. As a result, they provide a fantastic means of expressing gratitude without having to spend more money.
Only virtual items on the Roblox platform can be purchased with Roblox Gift Cards, and they are only suitable for use in the nation in which they were bought. They cannot be used to make purchases of tangible goods or services or to make bank or ATM withdrawals.
Conclusion
It is simple to Redeem a Roblox gift card on the Roblox website or by contacting Roblox support. You only have to input the code and follow the on-screen instructions to use the gift card. You may instantly add the virtual currency balance from your gift card to your account whether you use the internet or contact assistance. So, use your gift card to buy something today! This makes it simple to begin taking advantage of Roblox's numerous activities and experiences.
Read Next: Roblox Blox Fruits – Gameplay, Graphics, Features, and More