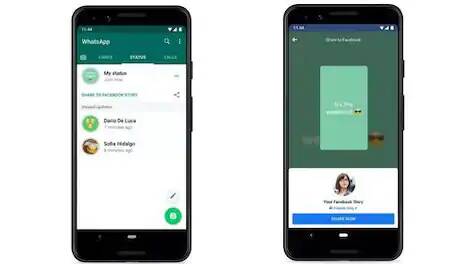 Good news for all social media buffs out there! As they can now share their WhatsApp status as their Facebook story. This feature was already available with Instagram Stories that gave the users a share it to Facebook option. Users of social networks like Facebook, Instagram & WhatsApp have another reason to rejoice !!
This started as a beta version earlier this year in June when some users were selected to join the beta version of WhatsApp Android. After the successful testing of the beta version, this feature is now available to WhatsApp's latest available version.
Let's see how users can now share their WhatsApp Status as their Facebook Story:
The user will navigate to 'My Status'.
Now you need to tap on the Hamburger icon you find near your WhatsApp Status which you want to now be on your Facebook Stories.
Now tap on 'Share to Facebook'.
After this, your Facebook profile picture can be seen on the bottom along with your privacy setting which is set as default.
Next, you need to tap on 'Share now' to share the WhatsApp status as your Facebook Story.
This features also enable the users to change their Facebook Story privacy settings from WhatsApp directly. This way, you can choose the viewers: it can be set to Public, Friends, Friends and connections, Friends, or Custom.
After your WhatsApp Status is posted as your Facebook Story, the content will remain there for as long as 24 hours. The WhatsApp Status can be shared as your Facebook Story as many times you like. The Facebook Story will stay there even after the deletion of your original WhatsApp status.
This features also saves the effort of saving and sharing the same thing twice, although the content in no way will be shared automatically.
This feature of sharing Stories on Instagram, Facebook & WhatsApp, can be cited as the social media giant's first step towards the enablement of messaging on cross-platform. While it keeps the above mentioned three applications, Instagram, Facebook & WhatsApp as individualistic platforms.
Also important to note here is that: combining the foundation of the 3 apps is technically challenging. As unlike Instagram or Facebook Messenger, WhatsApp makes use of end-to-end encryption as its default and does not store the data of the users. Also, remember that this doesn't result in the linking of your two accounts. They will still stay purely independent.