Games
Top 5 Most Expected Games of 2020
2020 is coming soon. We prepared the Most Expected Games of 2020 for you.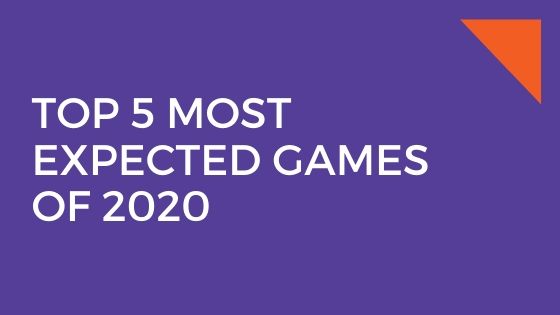 2019 was a good year for gaming. We have seen many new titles. It was not a great year like 2018. However, 2020 looks much better than in 2019. Therefore we are much more excited for 2020 releases. This list only consists of the games that are confirmed. Here are Top 5 Most Expected Games for 2020.
Cyberpunk 2077
Cyberpunk 2077 is the game of 2020 and it is coming from CD Projekt Red. Simply the hype for the game right now is at an all-time high. The E3 announcement with Keanu Reeves doubled the hype for the game. Of course, Keanu Reeves was not the main hyping effect here. Most players were already waiting for Cyberpunk 2077 after they have played the amazing Witcher Series.CD Project Red is trying to inform the press and the fans a lot before the release and they are doing an awesome job. Cyberpunk 2077 will release on April 16, 2020, The game will take place in a futuristic setting in 2077. You can watch the trailer from here.
Watch Dogs Legion
Watch Dogs Legion is going to be the Ubisoft flagship for 2020. The game takes place in London. The gameplay does look like fun. The engine of the game allows you to recruit anyone in the game. Which also allows you to play as anyone. Whether you want to play as a grandma or an emo teen you can play as those characters at Watch Dogs Legion. Every character has unique sets of skills as well. You will try to free London from an evil government. The gameplay and the setting look like fun so be sure to give it a try.
Also Read, Ark Survival Evolved Wiki – Your Guide to Surviving The Unknown
Minecraft Dungeons
Minecraft Dungeons was probably the most unexpected game that was announced at E3. But it became one of the "Most Expected Games" soon. Minecraft is definitely the most successful game of the 2010s. Because this game changed gaming a lot. It showed that there is much more to gaming than beautiful graphics. The game does look a lot more impressive with the new RTX on. However many people will still play the pixel version of it. Minecraft Dungeons is going to be the first DLC that Mojang releases and it's going to come for Xbox One, PlayStation 4, Nintendo Switch and of course PC. You can play multiplayer dungeons with up to four players. Also as much as we can see from the videos, it does look very nice. The game is probably coming out on quarter 2 of 2020.
Halo Infinite
Halo is one of those legendary shooting games that most of the world did not play. Because the game was secluded into one platform. However, this time things are changing with Halo infinite. The game is also coming for Microsoft Windows apart from the Xbox version. However, even though it is not coming out on PS4 it will be a huge hit without a doubt. Most probably the game is going to come from the Windows Store. The release date is around Q4 2020. We have a right to expect the best from Halo.
Also Read, "RAN: Lost Islands" a 16th Century Battle Royale
Gods and Monsters
Our Most Expected Games lits ends with another Ubisoft game for 2020 is Gods and Monsters. This is going to be a very busy year for Ubisoft. Gods and Monsters is coming to PC, PS4, Xbox One, Switch, and Stadia interestingly. The game will be released on February 25, 2020. It takes place in an open world. It is narrated by Homer whiLe Taking place in Ancient Greece. When Gods and Monsters was announced most of us thought it to be a Zelda knock off. However, it does look like it can separate itself from Zelda with the right moves. Be sure to check it out if you are a Zelda fan. This will be an interesting addition to Ubisoft's lineup this year.