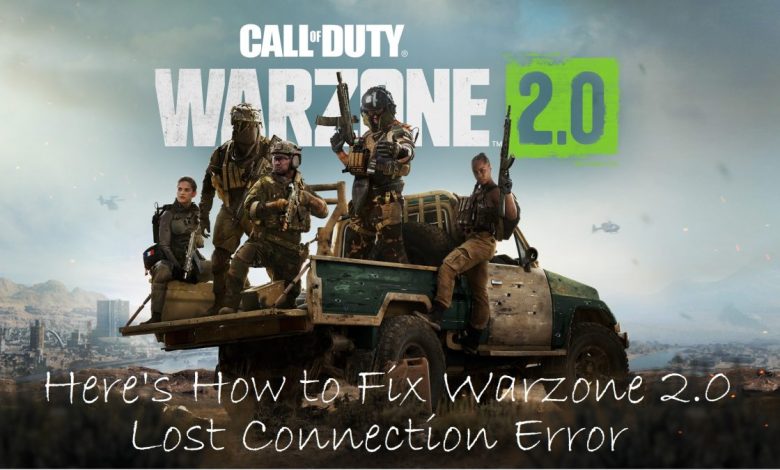 Getting 'Lost connection to server/host…' error in Warzone 2.0? You are not alone but what's more important is that your issue has now been addressed. Just apply the fixes mentioned in this guide and you are ready to jump back into Al Mazrah!
Call of Duty Modern Warfare II Warzone 2.0 is the latest entry in the Call of Duty franchise from Activision and the game now has a massive player base with the developers releasing patches regularly to fix any issues arising within the game. Warzone 2.0 offers an engaging experience and has two major varieties of game modes (Battle Royale and DMZ) to choose from. However, despite the game's increasing popularity, Warzone 2.0 players are still encountering connection-related errors on a regular basis and one of the most common errors is the one where you lose connection to the remote server. When this occurs, you will get the message that goes 'Lost connection to the server/host.'
This error can be extremely frustrating and when it occurs, you will end up losing progress since you will be kicked out of the match. In this article, we will discuss the common causes for this error and also let you know about a  few workarounds to fix the error.
Reasons for Warzone 2.0 Lost Connection to Host/Server Error
You are more likely to encounter this error if you have:
An unstable network connection.
Temporary glitch within the game.
An issue on the server's end including scheduled maintenance or unexpected outages.
App incompatibility in your system causing the game to crash.
The error message will appear when the player has been kicked out of the lobby and the worst that can happen is that you won't be awarded anything for the match you were in.
To help you resolve this issue, we have compiled a list of six fixes and we suggest that you apply them in exactly the same order in which they have been mentioned here. You may be interested in this – RAID promo codes.
Fix #1: Close and Restart the Game
If a temporary glitch is preventing Warzone 2.0 from connecting to the server, restarting the game might help. More often than not, temporary glitches can be fixed with a simple restart and nothing more. Restarting the game will also free up memory and system resources and a fresh instance of the game will have enhanced performance.
Fix #2: Reboot Your PC
Rebooting your computer will clear any temporary cache files that may have caused the game to crash. Sometimes, a full restart may be all that's required for the game to re-establish a connection to the server. Restarting the computer can also free up system resources consumed by other programs running in the background, improving the performance of the game.
Recommended for you! Dev Error 6015 Modern Warfare 2: Fix it Now!
Fix #3: Check Warzone 2.0 Server Status for Your Platform at Activision
If you are unable to connect to Warzone 2.0 servers, go ahead and check the server status. After performing the check, you will be able to determine if the issue is on your end or the server's end. You can check the game server status by visiting the Warzone's official support website (click here), where the developers upload information regarding server uptime and maintenance schedules.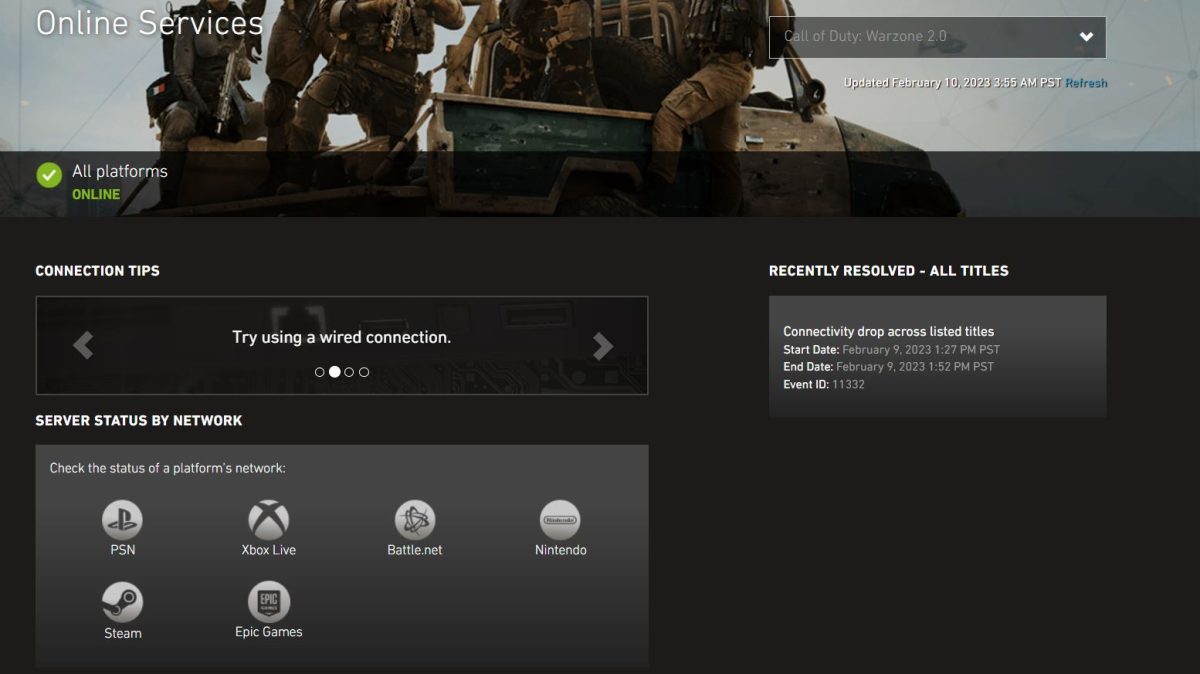 Additionally, you can check the game's Twitter handle for the most up-to-date information on downtimes and maintenance. Websites like Istheservicedown or Downdetector are also powerful tools to monitor the game's server status. Players often encounter connectivity issues during scheduled maintenance, so you may have to wait for it to be over before you can jump back in Al Mazrah.
Fix #4: Install Warzone 2.0 Updates
If the error persists even when the servers are up and running, the next step is to check for pending updates to Warzone 2.0. Updates for Warzone 2.0 include patches to solve bugs and connectivity issues. To avoid connectivity issues in all online games, you need to be running the latest version of those games. Offline games, for instance, don't really need the most recent updates for them to work but online games must be updated at all times to ensure a seamless experience.
Fix #5: Run a Speed Test
If the previous fixes didn't work for you, the next thing to check would be your network connection's speed. If you are having trouble staying connected while playing Warzone 2.0, it may be due to an unstable internet connection. What makes a connection unstable? High latency and packet loss, of course.
An unstable internet connection can result in lag and the game itself will start acting up from the point where it fetches your online profile. If you determine that the download speed you are getting is less than what you paid for, it's time to get in touch with your internet service provider (ISP) for help. To further optimize your internet connection, you can also see what other devices have been connected to your router and try disconnecting them.
Fix #6: Reboot the Modem or Router
Many players who have encountered 'Lost connection to server/host…' error in Warzone 2.0 have reported that rebooting their network equipment helps. Rebooting the router can help reset the connection and this will possibly fix the issue if everything's right on the server's end. To do this, unplug the modem or router from the wall outlet, wait for a few minutes then plug it back in.
Read next! Best Sniper Rifle Warzone
Conclusion
'Lost connection to server/host…' issue with Warzone 2.0 should now be fixed on your system. If you keep on encountering the connection loss error even after applying the fixes mentioned here, you can try reinstalling the game but only do that as a last resort when everything else fails.