Games
How To
Technology
Here's How You Can Change Your Name on Fortnite
Want to change your name or gamertag or ID (or whatever you call it) on Fortnite? You've come to the right place.
The One Game Name Theory
PC players can change their Fortnite display name unlimited number of times. It's pretty complicated on Xbox One and PS4, however.
I prefer keeping the same name across every game I play on any platform because my game name is a sort of identity. I wouldn't like to be called DeckedBeret1566 (that's my Xbox Live Gamertag, by the way) on one game and MuddledSquash on another. I mean, I would set all of my game names to DeckedBeret1566 because
It would be easier for my friends to remember my one game name.
I wouldn't have to keep track of all my game names eliminating the need of going through a sticky note with all my game names (I used to have it when I had different names on games I played online) every time someone asks for one of them names. I might also have mild OCD so I just try keeping all of my game names the same.
There may be a thousand other reasons to change your name on Fortnite. Maybe now you don't like the name you set two months ago or maybe your friends got this new clan set up and they want this clan tag written before everyone's name. Whatever be the reason, here's how you can change your name on Fortnite:
Changing Your Name on Fortnite (PC)
Before you proceed, make sure that you have verified the email address associated with your Epic Games Account on PC.
Step 1: On your web browser, head to the official Epic Games website.
Step 2: On the upper right corner of your screen, you will see a 'Sign In' button. Click on it.
Step 3: From the list of services available for sign-in, simply click on the first option that says 'SIGN IN WITH EPIC GAMES' if you have a full Epic Games account, which is usually the case with all PC players.
You can sign in with your Xbox Live and Play Station Network accounts as well. These options are for console players of Fortnite only.
Step 4: Once signed in, you will see your current Fortnite display name on the upper right corner of your screen. Hover over your name and a drop-down menu will appear. Click on 'Account' (which is the first option) in this menu.
You will be taken to the 'General' tab of your account's settings. Under Account Info, you will see your registered email address and current display name (both will be grayed out). In order to change your Fortnite display name, you must verify your Epic Games account.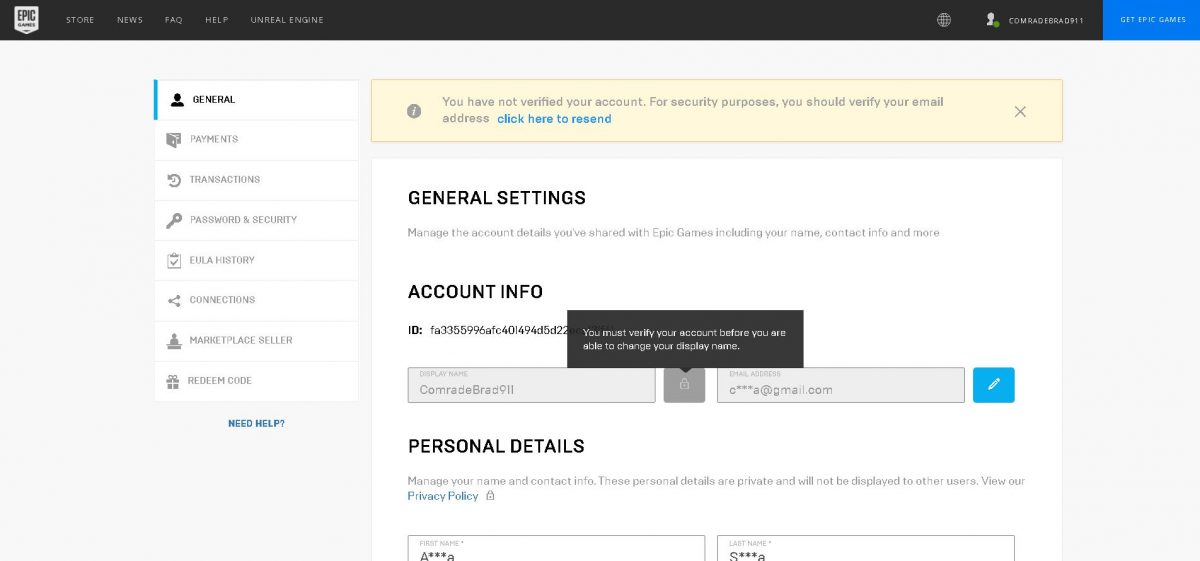 Step 5: Simply click on the 'White Pen' icon beside the box with your current game name and enter your new Fortnite display name in the dialogue box that comes up. After entering your new display name twice, checking a box, and clicking on 'Confirm', your in-game name for Fortnite and all other games you play via Epic Games launcher will be changed. You have to restart Epic Games launcher on your PC for this change to come into effect.
Don't forget to check this out! 5 Legitimate Ways To Get Free Xbox Live Codes
Name on Fortnite can be changed once every two weeks and this applies to Epic Games account only. While it's true that you can change your display name an unlimited number of times, you have to stick to a name for at least two weeks before jumping into another one.
Change Your Name on Fortnite (For PS4 and Xbox One Players)
For players of Fortnite on Xbox One, you will need to change the Gamertag associated with your Microsoft Account (more on that in a separate guide) for your display name to be changed on Fortnite. Keep in mind that changing your Gamertag will result in your display name changing in all the games you play on Xbox (be it Xbox One or Xbox 360).
Recommended for you! Roblox Error Code 524: Unable to Join Games Hosted on VIP Servers
Getting a new display name for Fortnite on PS4 requires you to change the name associated with your PSN account. And of course, changing your PSN's display name will result in similar consequences as seen on Xbox.