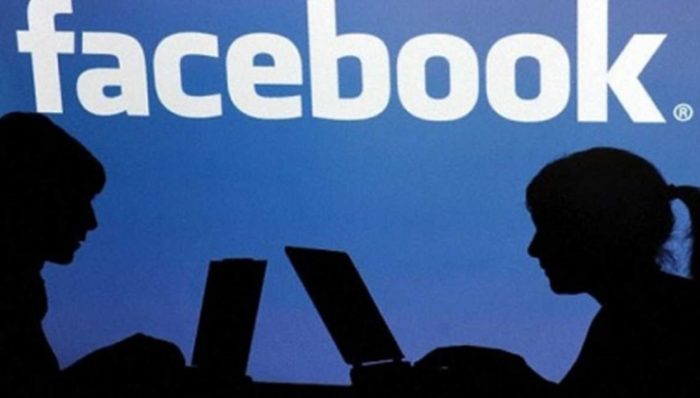 How often do you chat with your friend on Facebook? Maybe hours. Have you come up with any chat conversation that is important and should be saved/downloaded for the future? It can be a personal conversation, office talk, or anything.
What do you do when you need that conversation to be saved on your phone? You take a screenshot. In some case, you need only a part of the chat and a few pictures to be saved. Whatever the case may be, you will be happy to hear that, now you can save only the important conversation and ignore the rest.
Recommended for you: Share Your WhatsApp Status As Your Facebook Stories
What's amazing is you don't have to be a tech freak to do this. It is quite easy and simple that anyone can do. Facebook is a widely used social network that allows you to share pictures, videos, chat, and everything. Here are a few methods by which you can download Facebook chat and save the pictures you want.
Download Facebook Data to Save Your Conversation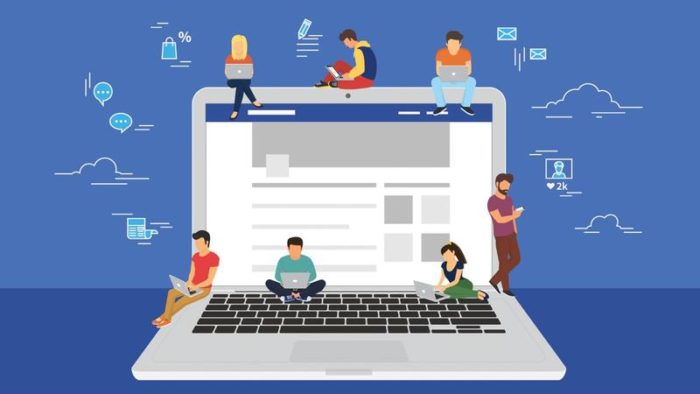 If you are stumbling the Internet to look for the methods to download your important FB conversation and media including pictures then this method is best for you. All you have to do is to download Facebook data. This will download everything right from your friend list to pictures and posts to chats. 
Follow The Below Steps to Save Chat History
Open your Facebook account and go to general settings.

At the bottom, you will see a link to download a copy of your Facebook data. Click the link and you will be redirected to a new page that shows Download Archive.

Once you click the Download archive, FB will start gathering your information. 

After it collects the information, it will share a link where you can download everything. 

Click the link Start my Archive and enter the password. 

A ZIP file containing all your information will be downloaded on your device. 
You will see an HTLA folder as messages.htm. The folder contains all your chats in block format. 
Third-Party Way To Download Facebook Chat
Another method that can be used to download Facebook chat is using a third-party way, i.e. Messages Saver, an extension that can be used for Chrome.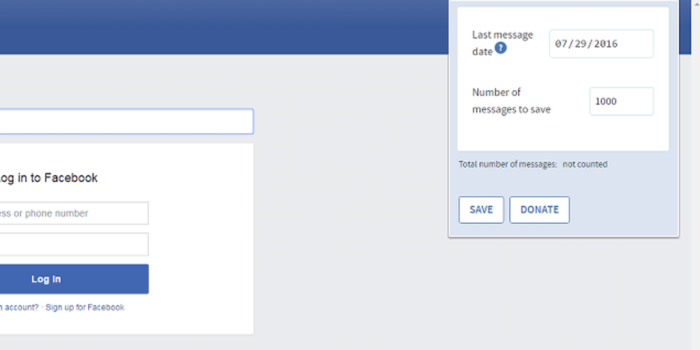 Saver is a browser extension that works when you are available on the Messenger page of FB. Click a chat and open the Messenger Saver extension. After this, the chat will be synchronized with the extension. You can also select the dates for the chats you want to save. Two versions of this extension are available. The free version will save the chats in the HTML format, whereas the paid version will save chats in different formats.
Chat Downloader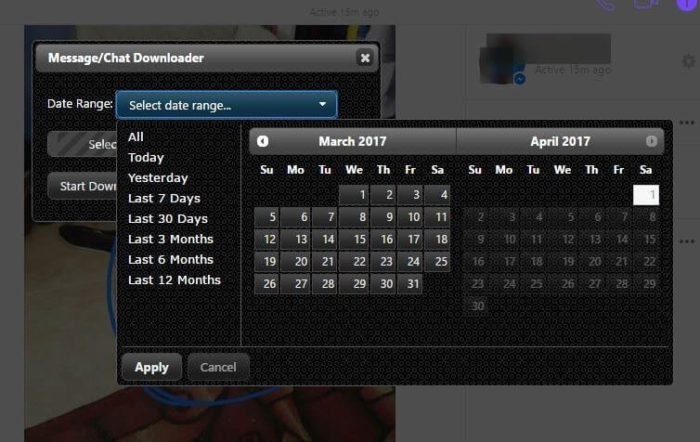 If you don't want to download the entire FB chat, the Chat Downloader extension allows you to save only a part of the chat. For instance, if you want to download conversations between two dates, just add those dates and this extension will download the chat for those days. Install the extension and open your Facebook account. Open the chat that you want to download.
After you click on the extension, use the calendar to choose the dates that you want to save. Click on the apply button. After the download is done, you will see a new page that will have your saved chats. Select the format you want to save the file in.
Out of the three methods described, which one you would choose to download facebook chat? Drop your comments below. Read Next, Top 5 WhatsApp Extensions to Ace Your Social Messaging Game