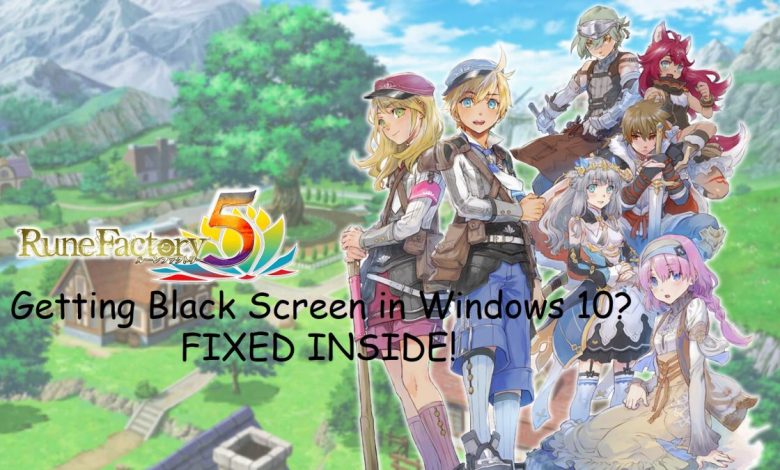 Rune Factory 5 crashing, black screen, or showing unexpected errors in Windows 10? Consider your issue fixed! Developed by Marvelous for Nintendo Switch and Windows PCs, Rune Factory 5 is an adventure role-playing simulation game, where you join an organization called SEED, which has been tasked with the duty of protecting the land from monsters.
This guide has been designed to address unexpected errors that you might have encountered while playing Rune Factory 5 in Windows 10 or Windows 11. Let's get right into how to fix the black screen issue of Rune Factory 5.
Quick Fixes for Rune Factory 5 Black Screen in Windows 10/11
Make sure the game is up to date from Steam.
Disable Antivirus and Firewall.
Disable background apps from Settings and use a third-party app like Razer Booster to clear up memory for smooth game performance.
If applying the quick fixes mentioned above doesn't work, it's time for you to explore some advanced troubleshooting techniques.
Update Your Video Card's Driver to Fix Rune Factory 5 Black Screen Issue
If you are getting black screen upon launching Rune Factory 5, one of the first things you can try is making sure that your video card drivers are up to date. Do not check for updates to your video card driver from the Device Manager section. If you have an Nvidia card in your system, use the official GeForce Experience App to download the most recent drivers.
However, if you have signed up for beta access to drivers, you might want to roll back to a stable release and check if you are still getting black screen with Rune Factory 5.
Here's how you can manually download a stable driver for your graphics card:
Nvidia's 'Official Advanced Driver Search' page is where all the drivers for GeForce cards are cataloged. Click here to access that page.
If you own a Galax GeForce RTX 3060, make these selections for fetching the right driver for your card.
Running Windows 11? Make sure you have selected 'Windows 11' in the drop-down menu under Operating System.
Still getting black screen in Rune Factory 5 after updating your graphics card driver? It's time to verify the integrity of your game files from Steam.
Recommended for you! Here's How You Can Change Your Name on Fortnite
Game File Integrity Verification
With the game file integrity verification process, Steam examines if any item in the game's directory is broken and if any damaged files are found, they are replaced with new ones from the web so make sure that you have a stable network connection before going ahead with this fix.
Head to the 'Library' and right-click on Rune Factory 5's icon. Click on 'Properties' and a new window will appear. Head to the 'Local Files' tab and you will see a button where it says 'Verify integrity of game files…'. Click on it.
This process will take a significant amount of time to complete (and is based on the performance of your internal storage device).
After the process is complete, relaunch Rune Factory 5 and check if the black screen issue is still persisting.
Disabling Overlays and Background Recording
One of the most overlooked techniques for solving black screen issue with practically any game on Windows 10 is to disable overlays.
There's no doubt that enabling overlay will have an impact on your performance especially if you have a moderately powerful PC. Overlays should only be enabled if you are monitoring the game's performance. Otherwise, on a normal day, keep the overlays disabled. Do you know what's even better? Disabling background recording! Make sure that none of the apps on your PC like GeForce Experience or Xbox Game Bar are covertly recording your gameplay. Background Recording should always remain off unless you own a significantly powerful machine.
Read next! Nintendo Switch Not Charging – How To Fix Charging Issue
Xbox Game Bar
Here's how you can disable background recording on Xbox Game Bar.
Press the Windows+G buttons to launch Xbox Game Bar.
Click on the 'Cog' icon and a new window, where you can modify the app's settings, will appear.
Switch to the tab that says 'Capturing' and make sure 'Record in the background while I'm playing a game' does not have a blue tick on it.
GeForce Experience
Launch GeForce Experience and click on 'Settings' (again the 'Cog' icon located at the top right corner of this app's window).
Turn off the switch for 'In-Game Overlay' and you are good to go! The switch should be grey when turned off. Active switches are colored green in this app.
Discord
To disable Discord's overlay, simply launch the app and under Settings, find the Overlay option then turn off in-game overlay. Launch Rune Factory 5 to see if the black screen issue has been addressed.
More Fixes for Rune Factory 5 Black Screen Issue
Update the Microsoft Visual C++ and DirectX runtime libraries from Microsoft Download Center page. These items are located under 'Developer tools' tab.
If your PC only meets the minimum requirements for running Rune Factory 5, consider running the game in the lowest possible graphics settings. Doing so will eliminate the chances of your graphics processing unit facing a memory overload.
If nothing seems to work for you, try reinstalling the game from Steam. If you are still facing the black screen issue after reinstalling Rune Factory 5, your graphics card most likely has a defect that needs immediate fixing. Get in touch with your equipment manufacturer to have this issue fixed.